// Click here to download on Steam!
Role
​
Genre
​
Editor
​
Team Size
​
Platform
​
Process
​
Tools
Level Designer
​
3D Kart racer
​
Unreal 4
​
58 (29 level designers)
​
PC + gamepad
​
Agile Scrum
​
Jira, Monday, Slack, Zoom, Perforce, Miro
The Game
​
"Hex Rally Racers is a 3D arcade racing game for PC where players race on flying brooms through wild twisting and turning tracks, combining ingredients to craft potions to be used against other players. Race through six stunning tracks in a chaotic race against seven other witches, or against three friends at the same time in multiplayer split-screen!"
General Responsibilities:
Researched and developed

proxy materials for proxy assets

Designed and implemented functional proxy pickups with blueprints

Playtested

levels, UI screens, and UX, and reported bugs to

Jira

Created umaps and sublevels

for teammates

Co-Implemented and modified spline

tracks in "Shroom Shire" track

Placed

art props and blueprint assets

into multiple tracks

Modified

terrain in "Shroom Shire" track

Collaborated

with software developers to

address

performance

concerns

Implemented

blocking volumes into several tracks to create robust gameplay
​
Special Assignments:
Served on a strike team of 5 to research other games and game elements to assist in the game design process​​​

Served on a strike team of 4 to research media capture and camera controls
Tracks were implemented using a spline system for the wooden track and fences. In some cases, terrain was raised up over the spline track. In places where tracks were split, fences overlapped. For these areas, we removed the fence pieces from the splines, and I individually placed fence pieces to create smooth transitions.
Once the fences were placed, I went back and added blocking volumes between some fences so that players racing along the edge didn't get stuck on collision. In some cases, props (i.e. rocks) were added to create a more natural collision wall.
I added ramps on this hidden hill separated by a tree. This provided a secret path that the player could take to gain a small boost. Ramps were angled at to create interesting movements and track framing.
While a team member was largely responsible for the overall landscape in "Shroom Shire," I modified this area after a series of ramps to add natural bumps and erosion. I also used the terrain in this area to hide the ramp's edges.
I ensured that terrain touched the bottom of every fence in the level naturally. I was responsible for ensuring that no major gaps or potholes existed under fences or in terrain, no floating objects existed in the playable space, and terrain edges always looked natural.
I spent a large amount of time adjusting the stats on ramps in the "Shroom Shire" track. Often, the character's speed would be altered and ramps would have to be readjusted. Ramp stats also had to be balanced when speed-altering powerups. were added or adjusted.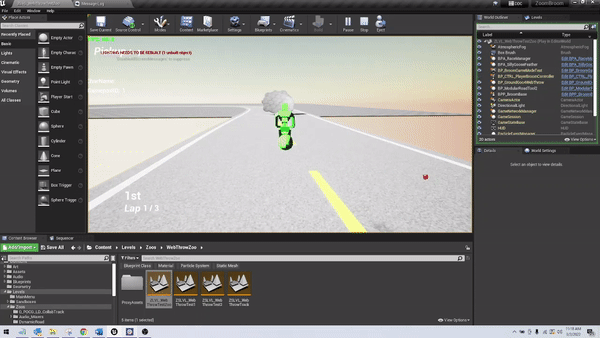 In early stages of the project, I worked on game mechanics. I co-designed the web throw mechanic with a team member and we separated the mechanic into four portions that needed assets and programming:
1. the thrown projectile
2. the spawned trap
3. the effects that occurred when a player collided into the trap
4. the destruction of the trap after a certain period of time
My teammate focused mostly on the projectile while I focused mostly on the trap. I was responsible for creating the trap blueprint to include placeholders for a static mesh, particle system, collision element, and sound effects, as well as, programming for spawning and destroying timed elements and effects. Later this pick-up was included in the game with enhanced and optimized visuals, programming, and audio.
When there are a lot of people on a team, it is not always easy to see where all team members can be most effective at all times. This project was a chance for me to dive into tasks that are a little outside of my immediate comfort zone. In the process, I was able to learn some new skills while also benefitting the project in the long run. I was also able to bring in prior quality assurance experience and really help the team make the game more robust. Finally, I was able to exemplify what it means to be a quality team member by following the leads' requests, letting leads lead their team, and also empower or uplift others to be the best leaders and developers they could be.